Horton is synonymous with safety and innovation and is the ambulance industry's gold standard for custom Type 1, Type 3 & CCT ambulances. SERVS and Horton have built some of the most cutting edge ambulances on the road today. With an unrivaled research and development department Horton truly invests more into their products than any other ambulance manufacturer.
A little bit about Horton
When you're a paramedic, an EMT, or a fire rescue crew in a critical care situation, every moment requires split-second decisions. That's why we obsess over quality, safety, customization, and innovation – the four pillars of Horton manufacturing – before those decisions ever get made. Together, they result in the most state-of-the-art ambulances on Earth.
Horton "Protect Your Crew"
Video
"Horton Overview and Safety Innovations" Video
Ambulance accidents can happen in an instant, that's why a crucial part of Horton's DNA is safety, protecting first responders so they can perform their critical lifesaving duties.
Research shows that most ambulance accident fatalities result from frontal collisions. Horton build's strength and safety into every detail of their ambulances with features like the exclusive Horton Occupant Protection System™ (HOPS™) featuring MBrace™.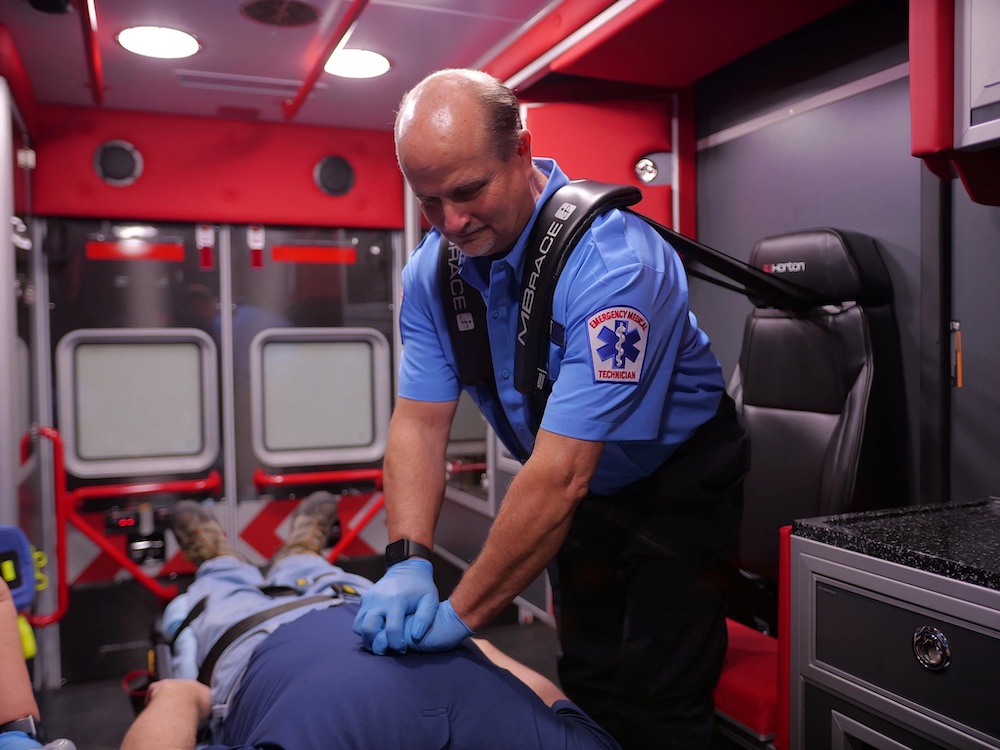 Long days, overnights, rain, snow and the toughest scenes. Horton Type I Ambulance Trucks have been there, done that, and come back for more. Crews welcome the built-in strength, the ample storage, and customized patient compartments. Versatile in large city environments, small rural areas, and in extreme situations, the optional four-wheel drive is just the cherry on top.
Horton Type III Ambulances
Built for the road as much as they are for the scene, Horton Type III ambulances are the ideal combination of strength and agility. Utilizing a van cutaway chassis, drivers can expect tight turning radiuses for exceptional maneuvering and control. Add in high-quality performance and comprehensive safety, and the Type III becomes an obvious choice for first response.
Horton Critical Care Transport/Medium-Duty Ambulances
Our Critical Care Transport (CCT) units are built-to-order emergency vehicles that meet the unique needs of departments all across the globe. We'll build, design, and outfit a patient compartment that allows you to respond with specialized care, including neonatal. Our CCT's are engineered to a level most ambulance manufacturers won't build to, which means you can expect a custom ambulance that lives up to all expectations.